About Sams Bets
If you enjoy the thrill of horse racing but just can't seem to make it pay, then Sam's Bets is certainly worth taking a look at.
Why?
Simple…the service has made a profit every year since 2010!
THE SEEDS OF THIS SERVICE WERE SOWN MANY YEARS AGO
Sam had his first bet at Hamilton races when he was eight – owned horses with his father when he was fifteen.
A "mug" punter for many years until the inception of the Betfair Exchange where he started taking his gambling more seriously making profits every year since.
Smaller part of his time is being an owner and racing manager of a few racing syndicates – advising on purchases and also having a strong connection with the Olly Murphy and Christian Williams yards.
BETTING IS IN SAM'S BLOOD
He spends around 10/12 hours a day working on selections – 7 days a week!
His selection process consists of looking at and going through many things.. form analysis, various speed figures, ratings, video analysis, – sectionals, stats, personal ratings…and much more!
His approach could be described as contrarian. He is constantly searching for an extra edge or angle that the market has missed or underestimated. It is a key feature of Sam's Bets to never stand still. Rigid selection criteria/systems can quickly become outdated and unprofitable – this is backed-up 'year-after-year' from his results.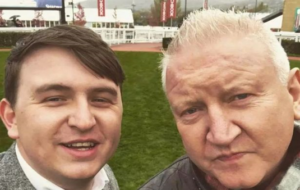 MONSTER £109k WON FROM CHELTENHAM FESTIVAL PLACEPOT The press were quick to jump onto this brilliant Festival story – you can read all about it in more detail below. Scottish Sun Story – Read HERE Daily Record Story – Read HERE Left: Stewart Black with his son Lee at Cheltenham Racecourse
THE STATS THAT MATTER 2019 +478.27 2018 +66.91 2017 +178.25 2016 +90.03 2015 +841.22 2014 +390.14 2013 +213.35 2011-2012 +279.21 2010-2011 +381.85 Stakes are to an average of 1 point 2 919 points profit over the last 9 years. Betting all selections since 2010 to £20.00 per point would have given a profit of £58 380.00 Betting all selections last year (2019) to £20.00 per point would have given a profit of £9564.54


TESTIMONIALS
"I have been following Sam's selections since he started posting on the Punterprofits website back in 2010. In every year since I have made a profit and in some years the profit has been truly exceptional to the extent that now my biggest problem is getting bets on as I have had numerous accounts closed or restricted. If you are disciplined, follow the staking advice and remain calm during the inevitable losing runs then over any period longer than 3 months you will make money. Compared to other professional tipsters Sam's service is exceptionally good value. My own highlights include Many Clouds winning the Grand National @ 40/1 and Labaik winning the Supreme Novice's Hurdle @ 40/1. Also 2 x 33/1 2 year old winners on consecutive days making over 70 points profit. In my view Sam's service remains the gold standard of all subscription tipster services I have tried." Je "
As one of your long-term members I thought I would give you a testimonial as requested (see below). I have also recommended your service to a friend who I am hoping will join your service in the near future. I've said it before and I'll say it again, we do appreciate your hard work and long term edge" Dan How
How Will I Receive My Tips?
Delivered by e-mail & also available in your members' area, plus you'll receive a notification e-mail if there is 'no bet' that day.
When Will I Receive My Tips?
Tips are sent out before 9am
How Many Tips Per Week?
If you like plenty of action, then SAM'S BETS will be right up your street with approx. 20-25 bets on average per week.
What Happens When I Sign Up?
You'll receive a welcome e-mail explaining how the service works. This will include important information of how you can login to your personal members' account within www.sam-bets.com via the login/register at the top of every page!
From here you'll see your members' area and be in complete control of your account – you can cancel your service (s) here, update your details and also see all your payment history!
Daily tips for Sam's Bets can be viewed in the members' area, as well as being emailed out to member.
Plus, our customer service team are on hand too should you need any further assistance.
Sam's Bets also send members a weekly review – breaking down the previous week's bets and information. This includes an in-depth analysis on staking, profit and any horses to note going forward.
What Is The Advised Staking Plan?
For instance let's take 1 point as being equal to £10.00
With Sams-Bets stakes would vary between £2.50 (1/4 point) to £40.00 (4 points MAX)
What Is My Starting Bank?
We suggest a Starting Bank of £250 to cover the longest losing streak during proofing to Tipsterplatforms.
How Long Has The Service Been Running?
Sam has 10 years of trading history and made profit every single year!
How Do I Cancel?
You can cancel at any time. As mentioned above, you can cancel via your members' area and we're always here to help – if you prefer, just drop us an e-mail or phone call and we can cancel the service for you and e-mail you confirmation once this has been done.