Introducing Mastermind Racing – A NEW Approach That Puts EVERYTHING In Your Favour!!
Here at Tipster Platforms our main aim is to have profitable horse racing services that reward members month-on-month and year-after-year!
That's why we are always on the lookout for new and exciting tipsters to join our stable – but – trust us – we certainly don't just let any service trade under the TP banner!
We've got a reputation to uphold and, therefore, it's very important that each potential new service has to go through a tried and tested 'PROOFING PERIOD' and unless they pass with flying colours then we simply say…….. 'thanks, but no thanks!'.
With that in mind, it's probably no surprise to hear we only have a handful of new services join each year – our customers are important to us, so we only want to pass on the best information and the most reliable services.
THERE IS GOOD NEWS THOUGH
After an EXCELLENT PROOFING PERIOD WE WANT TO INTRODUCE YOU TO…..
MASTERMIND RACING
Since proofing started on the 11th July 2018 the results from MASTERMIND RACING have taken us by storm. To say we've been impressed is an understatement (see their results below)………………but they are ready to now unleash their daily selections to members.
FROM THE 11th JULY 2018 till 30th August 2018 THEY BANKED 179pts PROFIT
115 Selections
51 Winners (44% strike-rate)
179ts PROFIT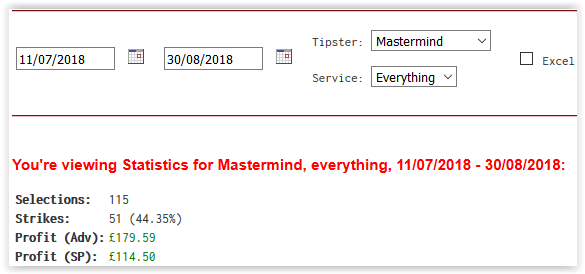 ALL PROOFED TO US HERE AT TIPSTER PLATFORMS
And the incredible returns continued into August 2018 too…………………..
FROM THE 1st AUG 2018 till 30th AUG 2018 THEY BANKED ANOTHER 81pts PROFIT
64 Selections
28 Winners (44% strike-rate)
81ts PROFIT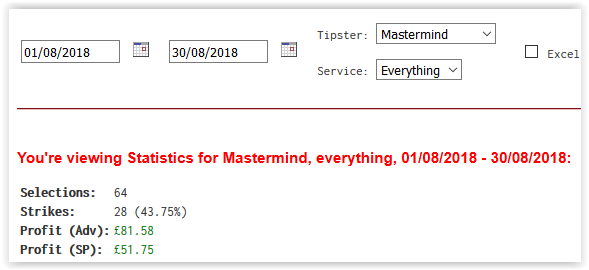 THAT'S A STAGGERING 179pts PROFIT IN EIGHT WEEKS!
Only the best info is sent onto members and with racing contacts on both the flat and jumps season then they've the whole year covered too.
Add in their customer service is second to none with all enquiries replied to within 24 hours then you can feel confident you are in safe hands.
About MASTERMIND RACING…………………….
Their background is that we have worked in the horse racing industry for over 20 years. However, unlike other tipping services where it can just be about a person's opinion or view the MASTERMIND approach takes ALL of that out of the equation.
They have a systematic way of finding selections that revolve around key areas like – GOING, TRACK, TRIP, FIELD SIZE and CLASS OF RACE……………………Once the daily runners have been put though their ratings program they are left with just a handful of horses that have EVERYTHING in their favour that day.
Oh – and if that's not enough the team at MASTERMIND then put these horses though one final selection process – CURRENT FORM. This will then whittle down the daily selections to on average 2 horses a day but in the process,  it now means we are backing horses that are proven over that days conditions, plus are also in excellent form based on their most recent races.
This method will churn out improving horses that have all the stars aligned that day – meaning there are little excuses!
Yes, not every day is a winning one (you can see the transparent results for yourself below) but what it does mean is that over a period of time the cream will rise to the top!! Only the horses that have everything going for them based on the conditions of the race are sent out to members and over time this approach will return a profit more often than not!
SELECTIONS ARE ALSO SENT THE NIGHT BEFORE IN ORDER TO GET THE BEST VALUE
Plus – you might be thinking……that's great, but won't this just throw-up odds-on chances or favourites? Wrong – again you can check the recent results below and you'll see that there's some tasty prices to be snapped-up.
How Will I Receive My Tips?
Delivered by e-mail & also available in your members' area, plus you'll receive a notification e-mail if there is 'no bet' that day.
When Will I Receive My Tips?
Tips will be e-mailed to members at around 9-10am every morning.
How Many Tips Per Week?
On average there are 7-10 bets per week.
What Happens When I Sign Up?
You'll receive a welcome e-mail explaining how the service works. This will include important information of how you can login to your personal members' account within SureWin via the login/register at the top of every page!
From here you'll see your members' area and be in complete control of your account – you can cancel your service (s) here, update your details and also see all your payment history!
Daily tips for Mastermind Racing can be viewed in the members' area, as well as being emailed out to members.
Plus, our customer service team are always on hand should you need any further assistance.
What Is The Advised Staking Plan?
Contact Us for more information
What Is My Starting Bank?
Contact Us for more information 
How Long Has The Service Been Running?
Mastermind Racing went live in July 2017
How Do I Cancel?
You can cancel at any time. As mentioned above, you can cancel via your members' area and we're always here to help – if you prefer, just drop us an e-mail or phone call and we can cancel the service for you and e-mail you confirmation once this has been done.