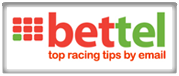 Bettel is arguably the most advanced betting information service of its kind, comprising a team of vastly experienced handicappers and form students who were behind one of the leading information services in the UK.
The team's vast knowledge of the betting and racing industries should not be underestimated, while Bettel stands for honesty and integrity – we pride ourselves on it!
Recent Winners
[notable_tipster_winners]
What makes Bettel unique is in their familiarity and mastery of the market infrastructure. We know exactly how to apply our judgment, ensuring a first-class service to our clients, while by using our simple points staking plan we'll tell you how to maximize your returns.
We lead the way in delivering valued information direct to your inbox (most days the night before) and have the best resources available, including a vast range of customer support systems.
Taking advantage of quality information and getting this out to our clients quickly is half the battle to making a healthy profit – that's why most day's you'll get our selections the night before!
So, our aim is simple: Every month we hope to achieve a 35%-40% strike rate or better, and with that a constant profit using our unique and simple points staking plan – based on our past results you'll see this is fully achieved more months than not.
We offer just one simple 'SUBSCRIPTION' service – meaning you can gain access to ALL our selections, and once a member you then don't have to worry about a thing – our experts take care of everything.
All our selections are proofed in advance to the Racing Post and Tipster Platforms.
NEW MEMBER OFFER: Join for 1 month, and get a month FREE!
For more information you can visit our main site – CLICK HERE
Monthly ProBet Subscription Service