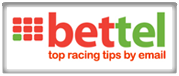 Bettel is arguably the most advanced betting information service of its kind, comprising a team of vastly experienced handicappers and form students who were behind one of the leading information services in the UK.
The team's vast knowledge of the betting and racing industries should not be underestimated, while Bettel stands for honesty and integrity – we pride ourselves on it!
Recent Winners
What makes Bettel unique is in their familiarity and mastery of the market infrastructure. We know exactly how to apply our judgment, ensuring a first-class service to our clients, while by using our simple points staking plan we'll tell you how to maximize your returns.
We lead the way in delivering valued information direct to your inbox (most days the night before) and have the best resources available, including a vast range of customer support systems.
Taking advantage of quality information and getting this out to our clients quickly is half the battle to making a healthy profit – that's why most day's you'll get our selections the night before!
So, our aim is simple: Every month we hope to achieve a 35%-40% strike rate or better, and with that a constant profit using our unique and simple points staking plan – based on our past results you'll see this is fully achieved more months than not.
We offer just one simple 'SUBSCRIPTION' service – meaning you can gain access to ALL our selections, and once a member you then don't have to worry about a thing – our experts take care of everything.
All our selections are proofed in advance to the Racing Post and Tipster Platforms.
NEW MEMBER OFFER: Join for 1 month, and get a month FREE!
How Will I Receive My Tips?
Delivered by e-mail & also available in your members' area, plus you'll receive a notification e-mail if there is 'no bet' that day.
When Will I Receive My Tips?
Tips will be e-mailed to members between 8-9am every morning.
How Many Tips Per Week?
One bet a day on average – but 'NO BETS' ON SUNDAYS.
What Happens When I Sign Up?
You'll receive a welcome e-mail explaining how the service works. This will include important information of how you can login to your personal members' account within SureWin via the login/register at the top of every page!
From here you'll see your members' area and be in complete control of your account – you can cancel your service (s) here, update your details and also see all your payment history!
Daily tips for Bettel Racing can be viewed in the members' area, as well as being emailed out to member.
Plus, our customer service team are on hand too should you need any further assistance.
What Is The Advised Staking Plan?
Each bet – depending on price – is given a points strength staking plan, which is shown in the daily email.
How Long Has The Service Been Running?
Since 2015
How Do I Cancel?
You can cancel at any time. As mentioned above, you can cancel via your [members' area] and we're always here to help – if you prefer, just drop us an e-mail or phone call and we can cancel the service for you and e-mail you confirmation once this has been done.