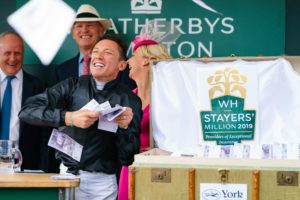 Born in Oxford in 1981, my father was a casual horse racing punter and frequent racegoer so with that saw regular trips to Newbury, Cheltenham and Stratford racecourses – to name only a few. Along with my older brother tagging along, these track trips were a very enjoyable feature of my childhood.
I started betting as soon as I was legally able to, and that fell in my last year at school back in 1999. I was obviously very naïve during these early days – the detrimental impact to betting shop punters of the 9% off-course tax barely registered with me then. For example, my selections were basically just glorified guesses and when you add in the tax to come out of the winnings then over time there was only going to be one winner.
I then went to Durham University in 2000 where I became much better acquainted with Sedgefield, Newcastle, Redcar and Wetherby racecourses than I did with the lecture halls and library! I was starting to take a more analytical approach to my betting by then, getting a feel for the sport and starting to formulate a few ideas of my own. At this stage I was also learning the importance of such fundamentals as recording my bets properly and managing my bankroll. However, I was a lot less disciplined than I could have been. The difference between knowing the fundamentals, putting them into practise and then actually sticking to them was considerable – I'll be honest……..as a result – I blew my bank, often through chasing losses and overstaking.
A few years after graduating from university I got a job as a junior football trader. I am keen on all sports, so I saw this as a wonderful opportunity to gain experience within the betting industry at the sharp end.
Within a few years I was responsible for placing considerable proprietary bets into the Asian handicap market on behalf of my company. During this period my horseracing betting was generally on the backburner apart from the odd trip to the races with colleagues. However, after receiving a reasonable bonus from work and shortly afterwards sponsoring my flatmate for a % of his entrance fee for an online poker tournament – a decision which yielded about £7,500 – I decided that I'd have another go at the horse racing – this time with a proper ring-fenced bankroll behind me. I revisited some of my old betting systems from university, refined them considerably and developed some new ones. I also decided to pay somebody to build me a proper database, which was one of the best investments I've ever made when I consider how many hundreds of hours of laborious work it has saved me over the years.
That was back in 2009 and I've never really looked back since. I still work as a football trader, albeit for a different company, but the horseracing betting represents a serious supplement to my income and still gives me enormous satisfaction. Inevitably, like many others, I've had my problems keeping my betting accounts in my own name open. I'm now forced to use Betfair much more than I used to and 'best odds guaranteed' is a very distant memory for me now. Both factors have had some impact on my yearly profits, however the edge I feel I have over the market is comfortably big enough to override these issues. This is mainly due to the fact that the great majority of my selections will start significantly shorter in the market than the price I take in the morning.
HERE ARE SOME GENERAL POINTS ON MY METHODS…………………………
Bank roll management – It doesn't matter how good a judge you are, you'll go skint if you don't bet within your means. Work out an amount of money you can reasonably afford which is ring-fenced for betting only. From this figure you can easily derive the size of bet you should be placing. Inadequate funding is akin to gambling, and all gamblers lose eventually. Gambling is something you should seek to avoid at all stages of your operation.
Record ALL your bets – I like betting on a wide variety of sports, some casually, some seriously. I record every single bet I place, however small. I also dabble on the spreads occasionally. It helps me keep a track of where I'm strong and where I'm weak. It goes without saying that my football and horseracing bets, my bread and butter, are recorded in meticulous detail.
Turnover – In my opinion, it's no use having a wonderful system which sits on an impressive ROI yet only produces a handful of bets a year. Personally I need to have a reasonable level to keep me engaged and stimulated. I back around 700 horses a year on average and there's only a small number of days where I'll tip nothing at all.
Many people get sucked into betting at big meetings just for the sake of it and because it's televised. I'll give a few tips at such meetings but it's sometimes worth remembering that a 4/1 winner pays exactly the same whether it's a claimer at Wolverhampton or the Epsom Derby.
SELECTION PROCESS
Generally, I concentrate on horses who have good, preferably winning, recent form, who are running within their class when at their peak, or very likely to progress and improve. I rarely back horses who are attempting something they haven't achieved in the recent past. I need to be sure that my selection is primed to run a big race, and recent winning form in the book is the most reliable indicator that a horse is likely to contend again. From this rock solid starting point the filtering process begins: price (odds), going, trip, race class, course suitability, trainer form, field size – all these factors, and more, are considered carefully before I am sufficiently satisfied to recommend a bet to members.
After this whittling down process has been completed, I will, across the calendar year, send out an average of about two bets per day. I cover National Hunt, Flat, and All Weather racing in both Britain and Ireland, therefore high summer, with racing taking place in the afternoons and the evenings across all three codes, tends to be my busiest period of the year. My turnover is higher over the jumps, however, and with the All Weather season also in full swing, there are plenty of value betting opportunities to get stuck into during the long, winter months.
My staking system is extremely easy to understand and implement: I always recommend 'win only' bets, never each-way. Unless under very specific circumstances, each-way betting is almost always poor value, and, in my opinion, simply indicates a lack of confidence in your selection process. My advised stake ranges from a minimum of 1 point to a maximum of 3 points. This difference in advised stakes does not necessarily indicate varying levels of confidence, it is merely a reflection of an unavoidable rule of betting: winner percentage and odds are inextricably linked. For that reason, it makes little sense to me to advise the same stake on a 10/11 jolly as a 33/1 rank outsider.
I send out my daily e-mail to members by 7.30am each morning, containing the name of the selection, the time of the race, the current price, and the advised stake. The importance of securing the early prices cannot be overestimated – take it from someone who knows, there's simply no easy way the SP punter can obtain value in the long run. Expanding on that theme, in my younger days I didn't really appreciate the significance of the old trading adage: 'don't tip me the winner, tip me the price', but it goes without saying that price (or the odds) is absolutely king when it comes to profitable betting. The vast majority of my selections will start shorter in the market than the price I take or advise. From my figures, although you'll still make money backing my selections to SP only, you'll only have made a quarter of the profits you would have made had you taken the advised prices.
It's impossible for me to overstate the importance of price.
How Will I Receive My Tips?
Delivered by e-mail & also available in your members' area, plus you'll receive a notification e-mail if there is 'no bet' that day.
When Will I Receive My Tips?
Tips will be e-mailed to members at around 8am every morning. Very occasionally there will be a delay of half an hour if the Bankroll team are waiting for a key piece of information – it's important to secure those early prices as often as possible.
On 'no bet' days members will be informed via email too, plus in the members' area.
How Many Tips Per Week?
On average 2 bets per day. But, of course, some days there will be 'no bet' days.
What Happens When I Sign Up?
You'll receive a welcome e-mail explaining how the service works. This will include important information of how you can login to your personal members' account within SureWin via the login/register at the top of every page!
From here you'll see your members' area and be in complete control of your account – you can cancel your service (s) here, update your details and also see all your payment history!
Daily tips for Bankroll Racing can be viewed in the members' area, as well as being emailed out to members.
Plus, our customer service team are always on hand should you need any further assistance.
What Is The Advised Staking Plan?
minimum of 1 point to a maximum of 3 points
What Is My Starting Bank?
Contact Us for more information
How Long Has The Service Been Running?
Bankroll Racing started proofing with us in June 2018
How Do I Cancel?
You can cancel at any time. As mentioned above, you can cancel via your members' area and we're always here to help – if you prefer, just drop us an e-mail or phone call and we can cancel the service for you and e-mail you confirmation once this has been done.